Who is Behind Relish?
We are a hard-working group of developers, artists, food-lovers and culinary nerds who have dedicated most of our lives to building technology that helps folks like you with all your cooking pursuits.
What is Relish?
There are millions of recipes on the Internet today, but which ones are the best? Relish has partnered with only the finest food bloggers to bring you a curated universe of 50,000+ best-in-class recipes.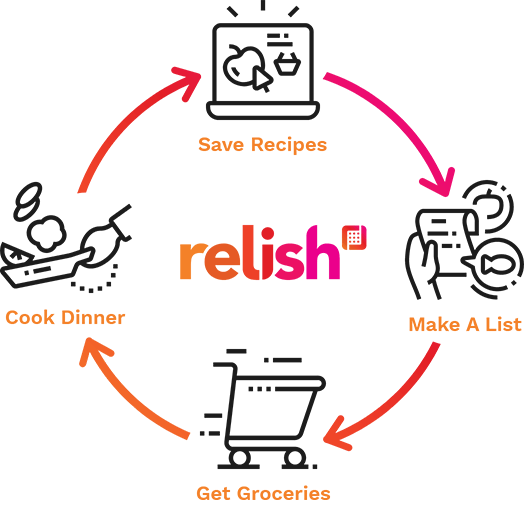 With Relish you can:
Save recipes from over 25 of the finest recipe publishers online in one central spot.
Change serving size for any recipe and resave to fit your family's needs.
Build a consolidated shopping list of ingredients for one or more recipes that you can print and take with you shopping or send directly to Instacart, Amazon Fresh, Walmart for same-day Grocery delivery.
New! Introducing Relish+
Relish+ is a membership that allows you to access even more whiz-bang features to make meal planning and grocery shopping easier. With Relish+ you get all the benefits of Relish, with even more support to help simplify your life. Having to decide each day what to cook, figuring out what ingredients you need, and finding time to go to the store is hard — Relish+ can help.
Find inspiration through our library of meal plans, or search our 50,000+ top rated recipes to create your own plans from scratch. Easily adjust the number of servings, swap ingredients and recipes until the plan is perfect for you. Use the Relish+ calendar to stay organized and schedule your meals. Your consolidated shopping list will be generated, and you can have all of your groceries ready for pickup or delivery in just a few clicks.
Unlike many other meal planning services, Relish+ allows members to access the full library of 50+ customizable meal plans the moment you subscribe. In addition, new meal plans are added each week.
How Much Does Relish+ Cost?
A Relish+ membership is as little as $3.75 per month with a 12-month membership. There are also 3-month and 6-month membership plans available starting at $4.95/month.