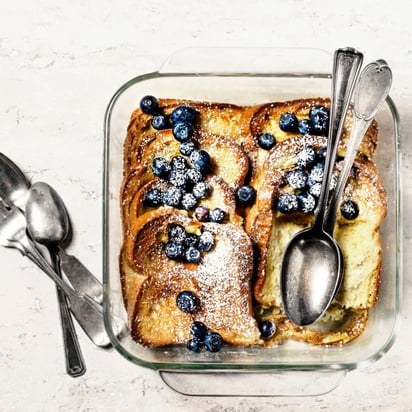 Lazy Oven French Toast Casserole or Strata Recipe
Ingredients
(11)
1 tbsp. butter (or as needed, or nonstick cooking spray for greasing the baking dish)

4 cups milk (see Note)

6 large eggs

2 tablespoons granulated sugar

2 tablespoons maple syrup, plus more maple syrup for serving (optional)

1 teaspoon pure vanilla extract

1/2 teaspoon ground cinnamon

1/2 teaspoon coarse or kosher salt

3/4 cup whole raisins, chopped dried fruit, or chopped nuts (optional)

Optional: ​fresh fruit such as berries, sliced peaches or pears, and/or confectioners' sugar

Note: This is luxurious when made with whole milk, but 2 percent or 1 percent milk works fine. Conversely, for an even more decadent dish, you can replace one of the cups of milk with a cup of cream or half-and-half if you like.
Ingredient Facts and Health Benefits
Discover fascinating facts and health benefits about some of the ingredients in the recipe, including other delicious recipes!