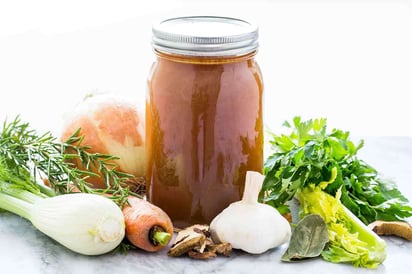 How to Make Vegetable Stock
Ingredients
(15)
1 ounce dried mushrooms*

4 tablespoons extra virgin olive oil

4 cups chopped onion

2 cups chopped celery

3 cups chopped carrot

1 cup chopped fennel bulb (optional)

Salt

2 large garlic cloves, smashed (can leave skins on)

1 tablespoon tomato paste

1 tablespoon fresh rosemary

2 teaspoons dried thyme

1 teaspoon black peppercorns

4 bay leaves

1/2 cup chopped parsley

*If you want to use fresh mushrooms instead, use about 5-6 ounces, thickly slice them, and dry sauté them first in a separate pan, until they are lightly browned and have given up some of their moisture. Then add in with the rest of the vegetables.:
Ingredient Facts and Health Benefits
Discover fascinating facts and health benefits about some of the ingredients in the recipe, including other delicious recipes!