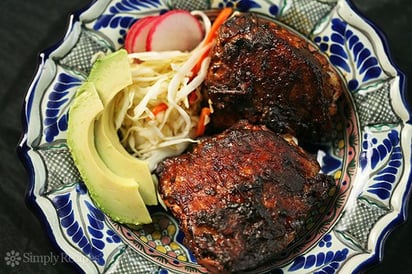 Red Chile Marinated Grilled Chicken Recipe
Ingredients
(18)
3 pounds bone-in, skin-on chicken parts, preferably thighs, trimmed of excess skin and fat

Salt

1 1/4 cup Mexican red chili sauce, either homemade* or canned (if you are gluten intolerant and are using canned chili sauce, make sure to read the ingredients on the can, some makers put wheat products in their sauce)

1 tablespoon extra virgin olive oil

2 tablespoons white or cider vinegar

1/2 teaspoon ground cloves

1/2 teaspoon ground allspice

1 teaspoon cinnamon

1/4 teaspoon ground cumin

A couple of turns on a black pepper grinder

A pinch of dried oregano, crushed

1 teaspoon minced garlic

Garnish:

Avocado slices

Thinly sliced lettuce or cabbage

Thinly sliced radishes

Cilantro

* To make your own homemade sauce, take 2 ancho and 2 guajillo chiles, open them up, remove the stems, seeds, and ribs. Lightly toast the chiles on a medium griddle or cast iron pan for a minute or two, flattening them down with a metal spatula. Place the chiles in a saucepan, cover with water, bring to a boil, remove from heat and let soak for 10-15 minutes, until chiles are softened. Place chiles, 1 1/4 cup of the soaking water, 1 clove of garlic, a pinch of salt, in a blender. Blend until completely smooth. Put mixture through a strainer to strain out any solids. Proceed with the recipe, but don't add any more garlic to the sauce.:
Ingredient Facts and Health Benefits
Discover fascinating facts and health benefits about some of the ingredients in the recipe, including other delicious recipes!