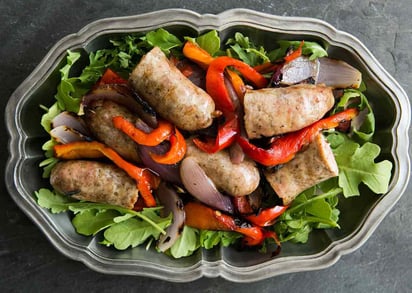 Grilled Italian Sausage with Peppers, Onions and Arugula Recipe
Ingredients
(9)
1 large red onion, cut into wedges*

2 large red bell peppers, seeded and cut into thirds

1 pound sweet Italian sausage links

Extra virgin olive oil

Salt

3 Tbsp honey

3 Tbsp balsamic vinegar

2 to 3 handfuls of baby arugula

*Cut the onion wedges so that the root end is still intact on each wedge. It will make the onion wedges easier to grill and help keep them from falling apart on the grill.:
Ingredient Facts and Health Benefits
Discover fascinating facts and health benefits about some of the ingredients in the recipe, including other delicious recipes!