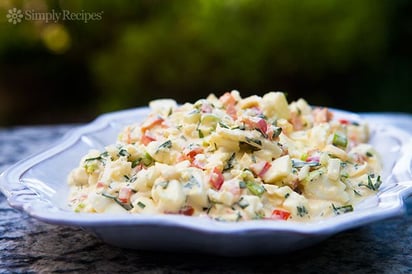 Tarragon Egg Salad Recipe
Ingredients
(10)
10-12 hard boiled eggs*, peeled and chopped

1/3 cup mayonnaise

2 teaspoons Dijon mustard

1/2 cup chopped fennel (about 1/2 of one large bulb)

1/2 cup chopped red bell pepper

1/2 cup chopped green onions, including the greens

1/4 cup, packed, chopped fresh tarragon leaves

2 teaspoons cider vinegar

Salt and pepper to taste

* To hard boil eggs, put eggs in a large pot, cover with 2 inches of water. Bring to a boil. Turn off the heat. Cover and let sit for 10-12 minutes. Drain, run under cold water to stop the cooking and to cool down the eggs.:
Ingredient Facts and Health Benefits
Discover fascinating facts and health benefits about some of the ingredients in the recipe, including other delicious recipes!