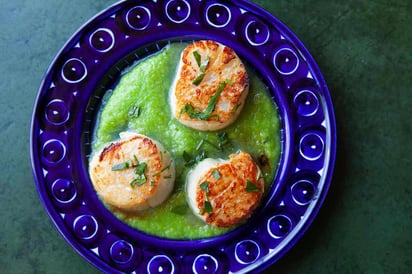 Seared Scallops with Asparagus Sauce Recipe
Ingredients
(7)
6 sea scallops*

Salt

1 pound asparagus

1/2 cup warm chicken broth (if cooking gluten-free use gluten-free stock)

2-3 tablespoons butter

2 tablespoons extra virgin olive oil or canola oil

*Sea scallops are the big scallops, about 1 1/2-inches wide, as opposed to bay scallops which are small, about 1/2-inch wide. Look for "dry pack" scallops, as they are not treated with chemicals to keep them fresh; the chemicals are not overly harmful, but they change the texture of the scallop and make them harder to sear properly.:
Ingredient Facts and Health Benefits
Discover fascinating facts and health benefits about some of the ingredients in the recipe, including other delicious recipes!