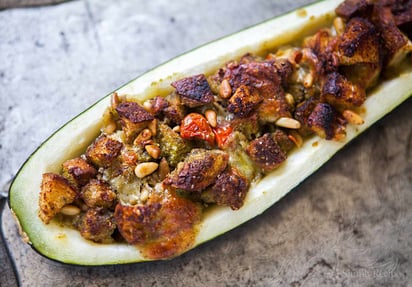 Pesto Stuffed Zucchini Recipe
Ingredients
(10)
2 cups of day old cubed bread*

1 tablespoon butter

2 tablespoons pine nuts

1 very large zucchini (about 2 pounds), otherwise known as a baseball bat zucchini

1/4 cup prepared basil pesto

1/4 cup grated Parmesan cheese

4 ounces fresh mozzarella, cut into cubes

A handful of cherry tomatoes, roughly chopped

Salt

*The bread should be a little dry, this way it will toast better. If you don't have day old or slightly dry bread, cut up fresh bread and lay out on a baking sheet. Heat in a 200°F oven for 10 minutes.
Ingredient Facts and Health Benefits
Discover fascinating facts and health benefits about some of the ingredients in the recipe, including other delicious recipes!