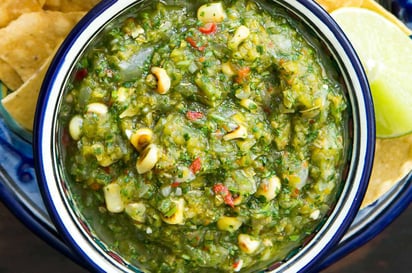 Cactus and Corn Salsa Recipe, Nopales Salsa
Ingredients
(15)
2 nopales cactus paddles, spikes removed*

2 green tomatoes, cored and cut in half

1/2 large, white onion, peeled and cut into 4 chunks

2 jalapeño chiles, red or green, more or less to taste

1 teaspoon extra virgin olive oil plus more to grease baking sheet

1 cup frozen corn**

1 cup cilantro, stems removed

1 garlic clove, peeled

Juice from 1/2 a lime, about 1 tablespoon

2 tablespoons tequila, optional

1 teaspoon dried Mexican oregano

Salt to taste

Tortilla chips, to serve

*This recipe is designed for the whole paddles, but you may be able to make it with bagged cut cactus for nopalitos if that's all that is available in the market. Just arrange them close together on the roasting pan while you roast the vegetables so they don't dry out.

**You can also use freshly cooked corn or grilled corn, stripped from the cob. In this case, skip the corn roasting in step 2, and just add to the salsa in the last step.
Ingredient Facts and Health Benefits
Discover fascinating facts and health benefits about some of the ingredients in the recipe, including other delicious recipes!