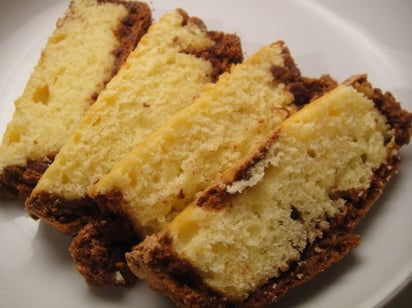 Rose Levy Beranbaum's Cradle Cake
Ingredients
(16)
Dacquoise

1/2 cup superfine sugar, divided

1/2 cup pecan halves

1/2 ounce fine-quality unsweetened or 99% cacao chocolate, chopped

2 large eggs, separated, at room temperature

Batter

2 egg yolks from above

1/3 cup low-fat buttermilk, divided

1 teaspoon pure vanilla extract

1 cup (or 3/4 cup plus 2 tablespoons) cake flour (or bleached all-purpose

flour), sifted into the cup and leveled off

1/2 cup superfine sugar

1 1/2 teaspoons baking powder

1/4 teaspoon salt

4 tablespoons (1/2 stick) unsalted butter (65° to 75°F)

Special Equipment: One 9 by 4- or 5-inch loaf pan, preferably silicone, coated with baking spray with fl our. If using a metal pan, line the bottom with a rectangle of parchment.
Ingredient Facts and Health Benefits
Discover fascinating facts and health benefits about some of the ingredients in the recipe, including other delicious recipes!