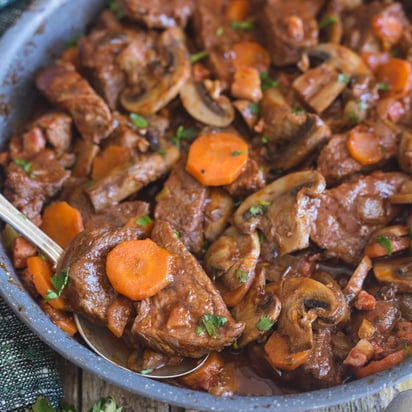 Beef and Mushroom Stew
Ingredients
(17)
1-2 tablespoons olive oil

1-2 cloves garlic minced

1 stalk celery diced

½-1 medium onion finely chopped

½ pound boneless beef chuck steak cut into pieces

½ cup pancetta chopped

¼ cup wine (dry white)*

½-1 cup vegetable broth (low salt)

3 tablespoons tomato paste

¼-½ teaspoon salt**

1-2 dashes black pepper or hot pepper flakes

½ teaspoon oregano

1 tablespoon Italian parsley minced

1 cup carrots (sliced) (approximately 2 medium carrots)

3½ cups sliced mushrooms

*If you prefer you can use red wine.:

**Depending on how salty your broth is you may want to salt the dish when it is almost cooked, taste the sauce and salt if necessary.:
Ingredient Facts and Health Benefits
Discover fascinating facts and health benefits about some of the ingredients in the recipe, including other delicious recipes!