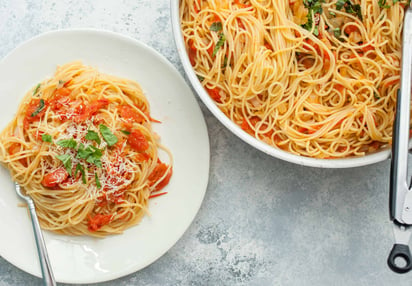 Cherry Tomato Pasta
Ingredients
(9)
1 pound pasta (I like whole wheat spaghetti.)

2 pints (1 quart) ripe cherry tomatoes

2 Tablespoons olive oil

3 or 4 cloves garlic, minced

1/2 onion, diced

1/2 cup dry white wine

1/4 Cup fresh basil, chopped

Salt and pepper

Optional spice add-ins: Red pepper flakes, dried marjoram, dried oregano, all to taste.
Ingredient Facts and Health Benefits
Discover fascinating facts and health benefits about some of the ingredients in the recipe, including other delicious recipes!
Directions
Learn how to make this recipe at Macheesmo