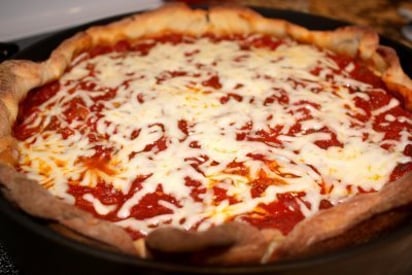 Chicago Deep Dish Pizza
Ingredients
(23)
For the Pizza Dough:

4 Cups Flour

1 Cup Milk

1 Tbsp. Butter

1 Tbsp. Sugar

1 tsp. Salt

1 Package Instant Dry Yeast

About 1 cup of water-add a little at a time until you get the right dough consistency

For the sauce:

1 small yellow onion

2-3 cloves garlic

Crushed red pepper

1 tsp. fennel

1 small can tomato sauce

1 can diced tomatoes

2 T tomato paste

Pinch of sugar

Salt and pepper

1 tsp. dried oregano

Fresh basil

Toppings and Cheese:

Use whatever toppings you like: sausage

Shred a lot of mozzarella cheese! We use a lot!
Ingredient Facts and Health Benefits
Discover fascinating facts and health benefits about some of the ingredients in the recipe, including other delicious recipes!