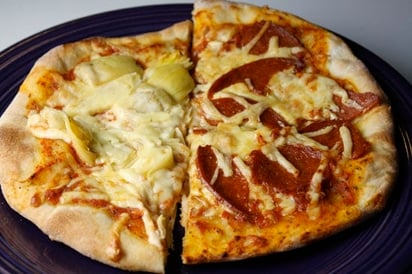 Frozen Personal Pizzas
Ingredients
(20)
If you're using a mixer, it's a good idea to do this in two batches.:

10 Cups (45 ounces) bread flour

3 Tablespoons sugar

2 Tablespoons kosher salt (or 4 Teaspoons normal salt)

1 Tablespoon instant yeast

6 Tablespoons olive oil

3 1/2 Cups room-temp water (70 degrees F)

Sauce: (Adjust to your liking):

1 28 ounce can whole tomatoes

1 Tablespoon dried parsley

1/2 Tablespoon dried marjoram

2 Teaspoons garlic powder

2 Teaspoons onion powder

3 Tablespoons olive oil

1 Tablespoon sugar (optional)

1 Teaspoon vinegar (optional)

Salt and pepper

Toppings:

2 pounds of mozzarella cheese (a bit over 2 ounces per pizza)

Various other toppings like canned artichokes (sliced), pepperoni, mushrooms, peppers, bbq chicken, etc.
Ingredient Facts and Health Benefits
Discover fascinating facts and health benefits about some of the ingredients in the recipe, including other delicious recipes!
Directions
Learn how to make this recipe at Macheesmo