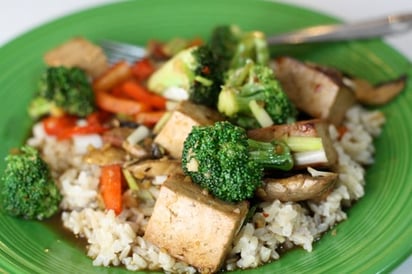 Marinated Tofu Stir Fry
Ingredients
(14)
2-3 crowns of broccoli

1 pound extra firm tofu, cubed

1 red bell pepper, sliced into matchsticks

8 oz. mushrooms, sliced

3 scallions, sliced thin

4-6 cloves garlic

1.5 inches ginger root

6 Tablespoons soy sauce

2 Tablespoons rice vinegar

2 Tablespoons sesame oil

2 Tablespoons honey

Red pepper flakes (optional and use as much as you like)

Vegetable oil for cooking. Canola or sunflower works well.

1 cup dry brown rice (long grain or short grain are both okay; I like long grain) If you are really in a hurry obviously you can use a rice that cooks faster.
Ingredient Facts and Health Benefits
Discover fascinating facts and health benefits about some of the ingredients in the recipe, including other delicious recipes!
Directions
Learn how to make this recipe at Macheesmo