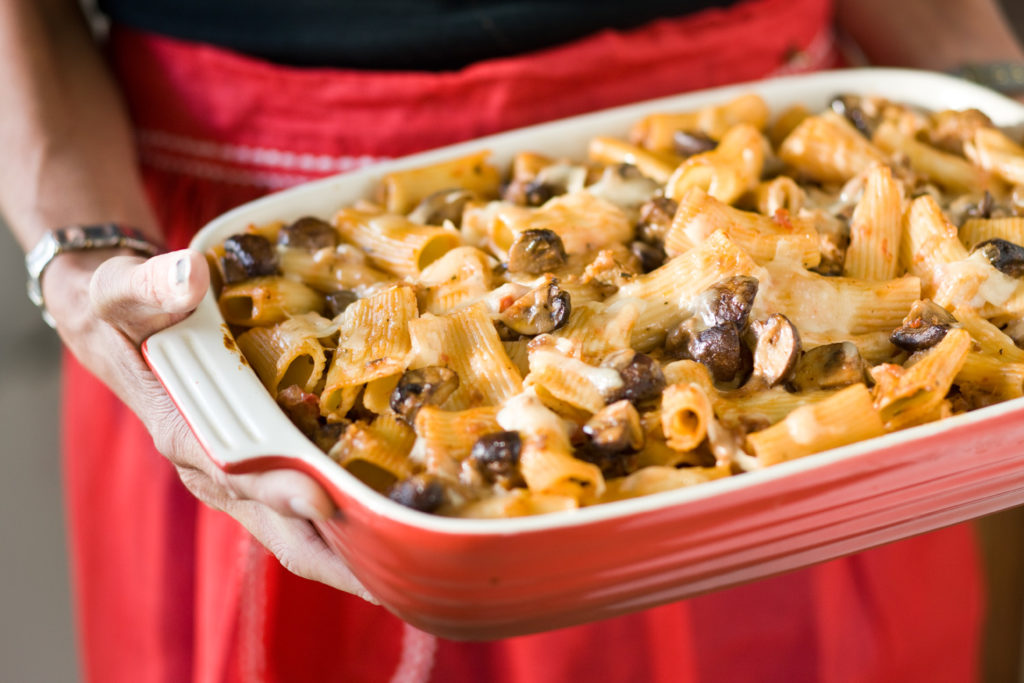 Baked Pasta with Sausage, Mushrooms and Fontina
The ultimate fall pasta dish for a casual gathering of family or friends.
The sausage-mushroom mixture can be made a day ahead and refrigerated in an airtight container. Rewarm over low heat before combining with the pasta.
Ingredients (17)
2 T Extra Virgin Olive Oil
12 oz Italian Sausage Links, Sweet
1 lb Cremini Mushrooms
½ cup Sliced Shallot
4 tsp Minced Garlic
2 tsp Minced Rosemary
⅓ cup Dry White Wine
or ⅓ cup Low Sodium Chicken Broth
1 tsp Kosher Salt
1 tsp Freshly Ground Black Pepper
3 T Unsalted Butter
3 T All Purpose Flour
2 cup 2% Milk
1 lb Rigatoni
14 oz Canned Crushed Tomatoes
6 oz Fontina Cheese
6 T Grated Parmigiano Reggiano Cheese
Directions
Heat 1 tablespoon oil in a large saute pan over medium heat; add sausage. Saute, breaking up meat until no longer pink and beginning to brown. Transfer to a plate with a slotted spoon; pour off drippings, leaving behind brown bits. Add remaining oil and mushrooms to pan. Saute until mushrooms begin to brown, 6 to 8 minutes. Add shallots; saute 3 minutes. Stir in garlic and rosemary; saute 1 minute more. Add wine, increase heat to medium-high, and cook until wine is nearly evaporated. Season with 3/4 teaspoon salt and pepper. Return sausage to pan and stir to combine.
Preheat oven to 375F. Lightly oil a 13 x 9-inch baking dish.
Melt butter in a large saucepan over medium heat. Stir in flour; cook until foaming but not colored, about 2 minutes. Whisk in milk; bring to a simmer. Cook until thickened, about 5 minutes. Season with remaining ¼ teaspoon salt.
Cook rigatoni according to package directions, undercooking it by 3 minutes. Drain; return to pot. Add sausage mixture to pasta; toss well. Add bechamel and crushed tomatoes; stir to combine. Stir in fontina and 2 tablespoons Parmigiano Reggiano.
Transfer pasta mixture to baking dish. Sprinkle remaining Parmigiano Reggiano over top; cover with foil. Bake 20 minutes. Remove foil and bake 10 minutes more. Let stand 5 minutes before serving.