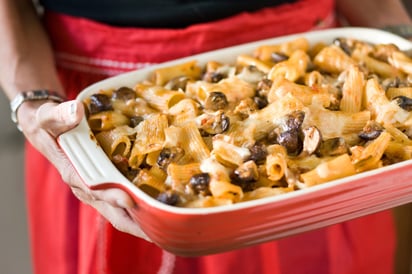 Baked Pasta with Sausage, Mushrooms and Fontina
The ultimate fall pasta dish for a casual gathering of family or friends.
The sausage-mushroom mixture can be made a day ahead and refrigerated in an airtight container. Rewarm over low heat before combining with the pasta.
Ingredients
(16)
2 tablespoon extra-virgin olive oil, divided

12 ounce sweet Italian sausage, casings removed

1 pound cremini mushrooms, trimmed, and quartered

1/2 cup sliced shallots

4 teaspoon minced fresh garlic

2 teaspoon minced fresh rosemary

1/3 cup dry white wine or reduced-sodium chicken broth

1 teaspoon coarse salt, divided

Freshly ground black pepper

3 tablespoon unsalted butter

3 tablespoon all-purpose flour

2 cup 2 percent reduced-fat milk

1 pound rigatoni

1 (14-ounce) can crushed tomatoes with purée

6 ounce Italian fontina, shredded

6 tablespoon freshly grated Parmigiano Reggiano cheese
Ingredient Facts and Health Benefits
Discover fascinating facts and health benefits about some of the ingredients in the recipe, including other delicious recipes!
Directions
Heat 1 tablespoon oil in a large saute pan over medium heat; add sausage. Saute, breaking up meat until no longer pink and beginning to brown. Transfer to a plate with a slotted spoon; pour off drippings, leaving behind brown bits. Add remaining oil and mushrooms to pan. Saute until mushrooms begin to brown, 6 to 8 minutes. Add shallots; saute 3 minutes. Stir in garlic and rosemary; saute 1 minute more. Add wine, increase heat to medium-high, and cook until wine is nearly evaporated. Season with 3/4 teaspoon salt and pepper. Return sausage to pan and stir to combine.
Preheat oven to 375F. Lightly oil a 13 x 9-inch baking dish.
Melt butter in a large saucepan over medium heat. Stir in flour; cook until foaming but not colored, about 2 minutes. Whisk in milk; bring to a simmer. Cook until thickened, about 5 minutes. Season with remaining ¼ teaspoon salt.
Cook rigatoni according to package directions, undercooking it by 3 minutes. Drain; return to pot. Add sausage mixture to pasta; toss well. Add bechamel and crushed tomatoes; stir to combine. Stir in fontina and 2 tablespoons Parmigiano Reggiano.
Transfer pasta mixture to baking dish. Sprinkle remaining Parmigiano Reggiano over top; cover with foil. Bake 20 minutes. Remove foil and bake 10 minutes more. Let stand 5 minutes before serving.