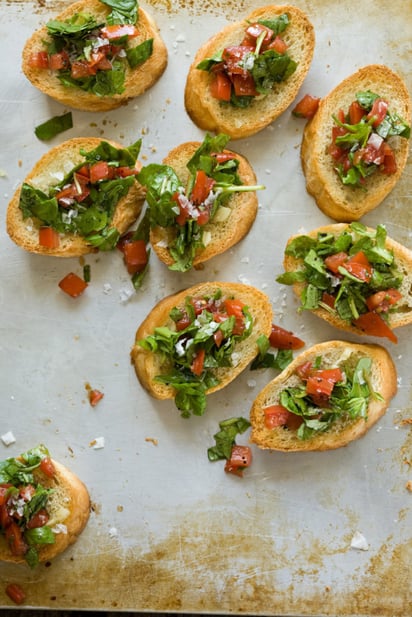 Bruschetta with Tomato and Arugula
Ripe tomatoes and leafy green arugula converge a top this simple and summery Italian appetizer.
Ingredients
(11)
Topping:

3 ripe tomatoes, diced

2 ounce arugula, roughly chopped

1 teaspoon salt

1/2 teaspoon coarsely ground black pepper

1 tablespoon extra-virgin olive oil

1 tablespoon balsamic vinegar

Bread:

12 small slices rustic artisan bread

2 teaspoon extra-virgin olive oil

2 garlic cloves, minced
Directions
To prepare topping, combine all ingredients in a medium bowl. Let stand at room temperature 1 hour.
To prepare bread, toast or grill bread until light golden. Combine olive oil and garlic. Brush on toasted bread. Top bread with tomato mixture. Serves 6.