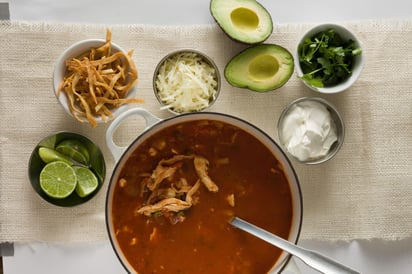 Tortilla Soup
A hearty, healthy soup that comes together quickly.
Ingredients (19)
1 T Extra Virgin Olive Oil
1 Onion
3 Garlic Cloves
1 tsp Chili Powder
2 tsp Ground Cumin
1 tsp Paprika
1 tsp Dried Oregano
28 oz Canned Crushed Tomatoes
4 cup Low Sodium Chicken Broth
8 6in Corn Tortillas
15 oz Canned Hominy
1 Poblano Chile
or 1 Anaheim Chile
or 1 Jalapeño Pepper
15 oz Canned Black Beans
1½ cup Shredded Cooked Chicken
¼ cup Chopped Cilantro
1 tsp Salt
1 Avocado
½ cup Shredded Manchego Cheese
or ½ cup Shredded Monterey Jack Cheese
½ cup Sour Cream
Directions
To make the tortilla strips, stack and slice the tortillas into strips. Lightly brush with oil and bake at 350F until golden and crisp.
Heat oil in a large stockpot over medium heat. Add onion and garlic to pan. Saute until soft. Stir in spices, tomatoes, chicken broth, water and 1/2 of the tortilla strips. Bring to a boil, reduce heat and simmer 10 to 15 minutes.
Stir in hominy and next 5 ingredients (hominy through salt). Simmer 10 minutes.
Pour soup into bowls and top with remaining tortilla strips, avocado, cheese and a dollop of sour cream.