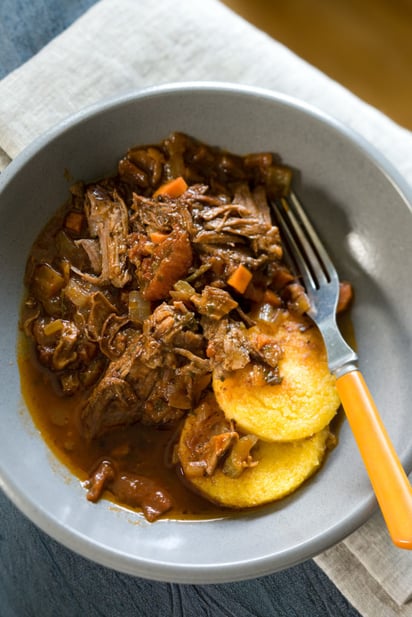 Italian Pot Roast
Porcini mushrooms and salty pancetta give American pot roast Old-World flair.
If you love the flavor of mushrooms, this pot roast is for you. Pancetta is "Italian bacon" and can be found in the deli section of the supermarket. Serve over premade polenta, found in chubs in the supermarket.
Ingredients (16)
3 cup Low Sodium Beef Broth
1 oz Dried Porcini Mushrooms
3 lb Beef Chuck Roast
1 T Ham, Cubed
or 1 T Pancetta, Chopped
1 Onion
1 Carrot
1 Celery Stalk
3 Garlic Cloves
½ tsp Salt
¼ tsp Freshly Ground Black Pepper
1 Dried Bay Leaf
or 1 Fresh Bay Leaf
1 T Chopped Sage
¼ cup Chopped Parsley
3 T Tomato Paste
3 cup Dry Red Wine
15 oz Canned Whole Tomatoes
Directions
Heat 1 cup beef broth. Add mushrooms and soak until softened.
Heat a large Dutch oven over medium-high heat. Add meat and cook until brown on all sides. Transfer meat to a plate. Add ham, onion, carrot and celery to pan. Cook, stirring, until onions are golden.
Add garlic and cook 1 minute. Add salt, pepper, bay leaf, sage, parsley, tomato paste and wine. Simmer until liquid is reduced by half, about 20 minutes.
Add meat, tomatoes, porcini mushrooms, mushroom soaking liquid and remaining 2 cups of beef broth. Bring to a simmer; cover and cook 2 1/2 to 3 hours, until meat is tender. Turn meat over halfway through cooking time.
Transfer meat to a cutting board. Let stand 10 minutes before slicing. Serve with vegetables and juice.