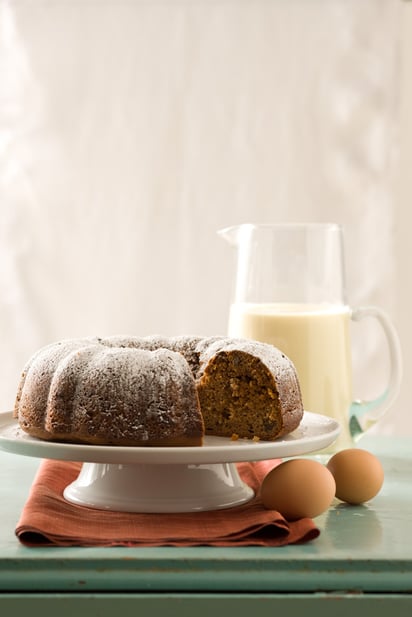 Eggnog Spice Bundt Cake
The quintessential Holiday-time bundt for serving with hot coffee on the morning after the big repast.
You can also prepare this recipe in a large loaf pan for a delicious Eggnog Spice bread. You might need to add an additional 5-10 minutes baking time.
Ingredients (9)
1 Packaged Spice Cake Mix
1 Vanilla Instant Pudding (3.4oz Pkg)
or 1 Cheesecake Instant Pudding (3.4oz Pkg)
1 cup Nonfat Vanilla Yogurt
¼ cup Canola Oil
1 cup Light Eggnog
1 Egg
3 Egg Whites
1⅓ cup Chopped Pecans
¼ cup Powdered Sugar
Directions
Preheat oven to 350F. Coat a nonstick Bundt pan with cooking spray.
Combine cake mix, pudding mix, yogurt, oil, eggnog, egg and egg whites in a large bowl. Mix until creamy.
Stir in pecans. Pour into prepared pan. Bake 40 to 45 minutes, until a wooden pick inserted in the center comes out clean. Cool on a wire rack. When cool, dust with powdered sugar.