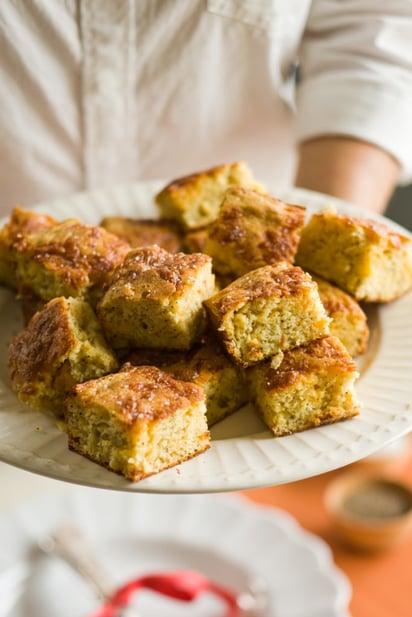 Cheese and Black Pepper Cornbread
Pepper plays a starring role in this not-so-sweet but very cheesy cornbread.
Fill the pans only about half-way so that the middle of the cornbread gets done -- it will still be really moist.
Ingredients (15)
¼ oz Cooking Spray
1¼ cup All Purpose Flour
1¾ cup Stone Ground Yellow Cornmeal
3 T Sugar
4 tsp Baking Powder
½ tsp Baking Soda
1 tsp Salt
2 tsp Freshly Ground Black Pepper
3 Eggs
2½ cup 2% Milk
⅓ cup Vegetable Oil
1 cup Canned Creamed Corn
8 oz Sharp Cheddar Cheese
or 8 oz Monterey Jack Cheese
1 T Butter (optional)
½ tsp Kosher Salt (optional)
Directions
Preheat oven to 400F. Spray two 8-inch square baking pans with cooking spray.
Combine flour and next 6 ingredients (flour through black pepper) in a bowl.
Whisk eggs in a bowl. Whisk in milk and oil.
Pour egg mixture into cornmeal mixture; whisk using as few strokes as possible. (Batter will be thinner than the usual cornbread.) Stir in corn and half the cheese. Pour into prepared pans; top with remaining cheese. Bake 35 to 40 minutes, until golden brown. Place foil over the top during the last 10 minutes of baking if the top is getting too brown. Remove from oven. Spread butter on top and sprinkle with salt, if using.