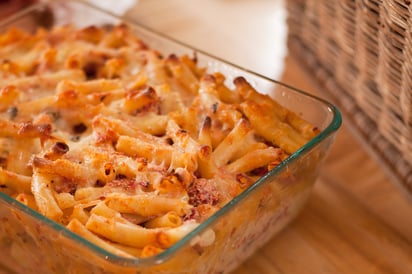 Easy Baked Ziti
A perfect potluck pasta dish!
Ingredients (16)
Sauce
3 T Olive Oil
2 Garlic Cloves
56 oz Canned Crushed Tomatoes
¾ tsp Salt
1 tsp Sugar
1 tsp Freshly Ground Black Pepper
Pasta
¼ oz Cooking Spray
1½ lb Ziti Pasta
or 1½ lb Penne Pasta
or 1½ lb Medium Pasta Shells
or 1½ lb Rigatoni
30 oz Whole Milk Ricotta Cheese
1 tsp Salt
2 tsp Garlic Powder
2 tsp Dried Basil
¼ tsp Red Pepper Flakes
1 tsp Freshly Ground Black Pepper
½ cup Grated Parmigiano Reggiano Cheese
or ½ cup Grated Pecorino Romano Cheese
2 cup Shredded Mozzarella Cheese
or 2 cup Shredded Provolone Cheese
Directions
To prepare sauce, heat olive oil in a medium saucepan. Add garlic and cook 1 minute. Add tomatoes. Cover and bring to a boil. Reduce heat and simmer 20 minutes. Add salt, sugar and pepper.
Preheat oven to 350F. Coat a 13 x 9-inch baking pan with cooking spray.
Cook ziti about 3 minutes less than the package directions indicate. Drain pasta, reserving ½ cup of cooking water.
Place pasta, ricotta, salt, garlic powder, basil, red pepper flakes, black pepper and half the Parmigiano Reggiano cheese in a large mixing bowl. Stir to mix, diluting with a few spoons of pasta cooking water until creamy. Add tomato sauce and mix. Place in baking dish. Sprinkle top with mozzarella and remaining Parmigiano Reggiano. Cover with foil and bake 30 to 45 minutes, until thoroughly heated. Remove foil during last 10 minutes of cooking time to brown.