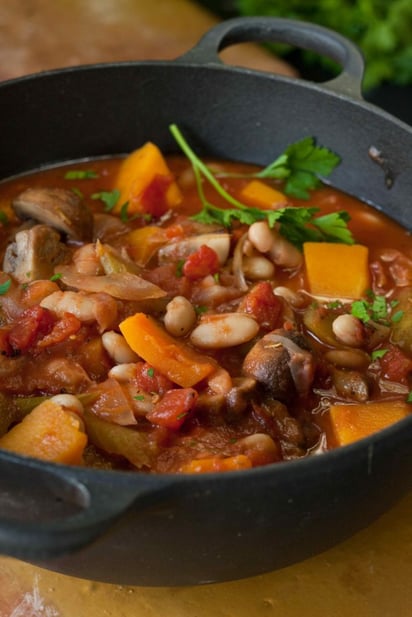 Butternut Squash-White Bean Stew
Vibrant butternut squash stars in this hearty vegetarian stew.
A 2-pound whole squash yields about 4 cups of cubes. Look for tomato paste in a tube, so you can use a tablespoon at a time. Serve with cheese toast.
Ingredients (13)
2 T Olive Oil
1 cup Sliced Onion
¾ cup Sliced Celery
3 cup Chopped Mushrooms
4 cup Diced Butternut Squash
14 oz Fire Roasted Diced Tomatoes
1 Garlic Clove
2 T Tomato Paste
¾ tsp Dried Rosemary
½ tsp Kosher Salt
¼ tsp Freshly Ground Black Pepper
30 oz Canned Great Northern Beans
8 tsp Chopped Flat Leaf Parsley (optional)
Directions
Heat oil in a Dutch oven over medium-high heat. Add onion, celery and mushrooms. Cook until vegetables start to brown, about 8 minutes.
Stir in squash, tomatoes, garlic, water, tomato paste, rosemary, salt and pepper. Mix well. Cover and bring to a simmer. Reduce heat and simmer until squash is tender, about 25 minutes. Uncover, stir in beans and simmer until stew consistency, about 10 minutes. Sprinkle with parsley, if desired.