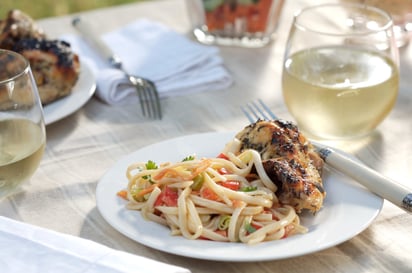 Marinated Lemon Chicken Breasts
Lemon and herbs add zest to humble chicken breasts.
Chicken is marinated with herbs and lemon zest overnight then basted with a lemon marinade halfway through cooking for a double lemon flavor.
Ingredients (12)
3 Garlic Cloves
1 T Canola Oil
1 T Sugar
1 T Chopped Rosemary
2 tsp Fresh Thyme Leaves
1 tsp Salt
¾ tsp Freshly Ground Black Pepper
4 Bone In Chicken Breasts, 12-14oz ea
4 Lemons
2 T Extra Virgin Olive Oil
1 T Red Wine Vinegar
2 tsp Honey Mustard
Directions
Combine, garlic, oil, sugar, rosemary, thyme, lemon rind, 1/4 teaspoon pepper and 1/2 teaspoon salt in a large bowl; add chicken and toss until well coated; cover and refrigerate overnight or up to 24 hours.
Combine lemon juice, olive oil, vinegar, honey mustard and remaining salt and pepper in a medium bowl; whisk.
Preheat broiler or grill. Place chicken on a large rimmed baking sheet or grill rack. Broil or grill 16 minutes, turning once.
Baste chicken with lemon juice mixture. Broil 8 more minutes, turning and basting twice, until an instant-read meat thermometer inserted into thickest part of breast registers 165F. Cool 10 minutes, then transfer chicken to a large container and refrigerate at least 4 hours or overnight.