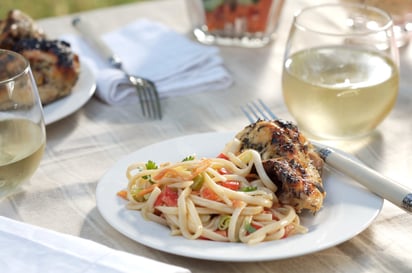 Marinated Lemon Chicken Breasts
Lemon and herbs add zest to humble chicken breasts.
Chicken is marinated with herbs and lemon zest overnight then basted with a lemon marinade halfway through cooking for a double lemon flavor.
Ingredients
(13)
3 clove garlic, minced

1 tablespoon canola oil

1 tablespoon sugar

1 tablespoon chopped fresh rosemary

2 teaspoon fresh thyme

2 teaspoon finely grated lemon rind

1 teaspoon salt divided

3/4 teaspoon coarsely ground black pepper, divided

4 (14-oz) bone-in chicken breasts, cut in half crosswise

1/2 cup fresh lemon juice

2 tablespoon extra-virgin olive oil

1 tablespoon red wine vinegar

2 teaspoon honey mustard
Ingredient Facts and Health Benefits
Discover fascinating facts and health benefits about some of the ingredients in the recipe, including other delicious recipes!
Directions
Combine, garlic, oil, sugar, rosemary, thyme, lemon rind, 1/4 teaspoon pepper and 1/2 teaspoon salt in a large bowl; add chicken and toss until well coated; cover and refrigerate overnight or up to 24 hours.
Combine lemon juice, olive oil, vinegar, honey mustard and remaining salt and pepper in a medium bowl; whisk.
Preheat broiler or grill. Place chicken on a large rimmed baking sheet or grill rack. Broil or grill 16 minutes, turning once.
Baste chicken with lemon juice mixture. Broil 8 more minutes, turning and basting twice, until an instant-read meat thermometer inserted into thickest part of breast registers 165F. Cool 10 minutes, then transfer chicken to a large container and refrigerate at least 4 hours or overnight.