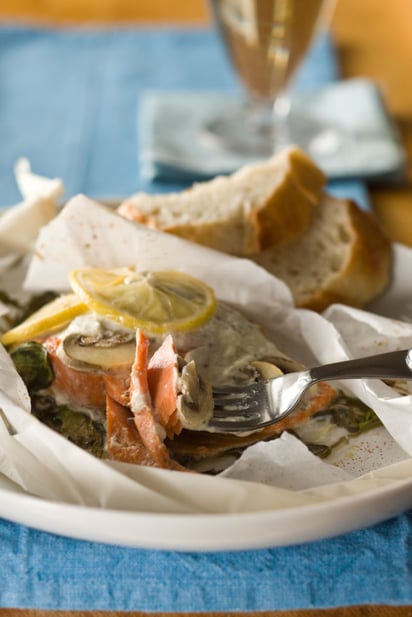 Salmon in Parchment Paper
Fresh salmon, arugula and herbed cheese make a delicate, flavorful dinner.
Ingredients
(7)
4 cup arugula or spinach

4 (6-ounce) skinless salmon fillets

2 tablespoon fresh lemon juice

4 tablespoon white wine

1/2 cup garlic and herb spreadable cheese, such as Alouette

1 cup thinly sliced mushrooms

1 lemon, thinly sliced
Ingredient Facts and Health Benefits
Discover fascinating facts and health benefits about some of the ingredients in the recipe, including other delicious recipes!
Directions
Preheat oven to 400F.
Fold four 15-inch square pieces of parchment paper in half; cut into heart shapes. Unfold and lay arugula next to the fold. Place salmon fillets on top of arugula. Drizzle lemon juice and wine on salmon. Spread cheese on top of salmon. Top with mushrooms and lemon slices. Fold and tightly seal the edges with narrow folds. Place packets on a rimmed baking sheet and bake 20 minutes. Remove packets from oven and transfer to individual serving plates. Cut open packets and serve.