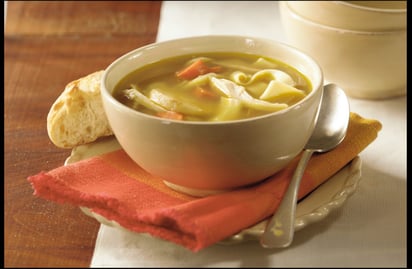 Chicken Vegetable Soup
Store-bought broth is enhanced with garlic, onions and ginger for a quick flavorful soup—add rotisserie chicken and dinner is done.
Ingredients (11)
1 T Olive Oil
3 Garlic Cloves
2 Onions
1 2in Knob Fresh Ginger Root
3 Carrots
2 Parsnips
9 cup Fat Free, Low Sodium Chicken Broth
1 tsp Salt
½ tsp Freshly Ground Black Pepper
3 cup Shredded Cooked Chicken
1½ cup Cooked Egg Noodles
Directions
Heat olive oil in a large heavy pot over low heat. Add garlic, onions and ginger; saute until soft and golden, about 10 minutes, stirring frequently. Add carrots and parsnips; cook, covered, until vegetables are tender, about 10 minutes.
Add broth, salt and pepper. Bring to a boil over high heat; reduce heat and simmer 20 minutes.
Add shredded chicken and noodles; simmer until thoroughly heated.