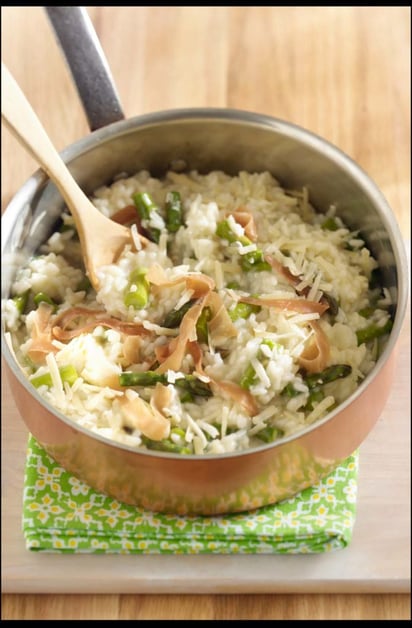 Risotto with Prosciutto and Asparagus
Risotto is usually a first course; adding ham and vegetables makes it one-dish meal.
This spring dish comes to us from Chef Alberto Rossetti of Parma, Italy.
Ingredients (10)
5 cup Low Sodium Chicken Broth
1 T Olive Oil
2 T Unsalted Butter
¼ cup Minced Yellow Onion
1 Garlic Clove
1¼ cup Arborio Rice
1 lb Asparagus
½ cup Grated Parmigiano Reggiano Cheese
¼ tsp Salt
4 Prosciutto di Parma Slices
Directions
Bring broth to a simmer over medium heat.
Combine oil and 1 tablespoon butter in a heavy saucepan and heat over medium heat. Add onion; saute 5 minutes. Add garlic; saute 30 seconds or until fragrant.
Add rice; cook 5 minutes, stirring to coat well. Add 1 cup broth; cook, stirring constantly, until absorbed. Continue adding broth by small ladlefuls, stirring constantly and allowing each addition to be absorbed before adding more, until the rice is tender but still firm to the bite and creamy, about 20 minutes in all. Add asparagus during last 5 minutes of cooking.
Remove from heat and stir in the Parmigiano, remaining butter and salt.
Divide risotto among 4 pasta bowls, top each serving with Prosciutto, and let it wilt over hot rice. Serve immediately.