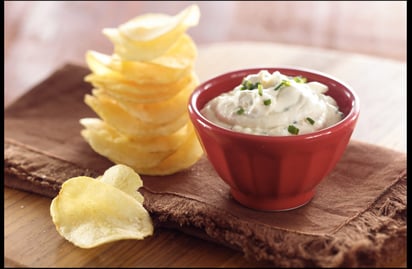 Goat Cheese and Roasted Garlic Dip
Skip the dips with the all-too-common ranch dressing base in favor of fresh, soft chevre for a lighter taste.
Use Montrachet or whatever soft, creamy goat cheese you prefer. For the best taste, refrigerate overnight before serving.
Ingredients (8)
2 Garlic Heads
7 oz Goat Cheese
½ cup Light Sour Cream
6 T Light Mayonnaise
2 T 2% Milk
¼ cup Chopped Chives
½ tsp Salt
¼ tsp Freshly Ground Black Pepper
Directions
Preheat oven to 400F.
Cut off the top quarter of each garlic head. Wrap in foil and roast about 1 hour or until soft. Unwrap and cool 15 minutes.
Squeeze garlic pulp into a large bowl; mash. Stir in goat cheese, sour cream, mayonnaise, milk, chives, salt and pepper. Cover and refrigerate overnight or up to 1 week.