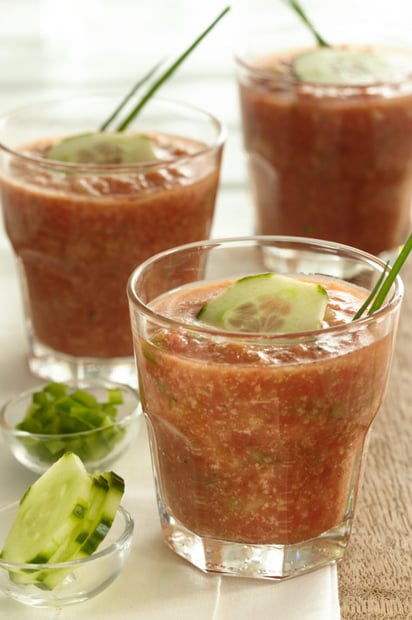 Gazpacho
At the top of our list of recipes we like to make when the weather gets really hot is gazpacho. The cold soup, from the Andalusia region of southern Spain, is a wonderful midsummer treat.
This favorite version of the cold soup from Spain is loaded with fresh tomatoes, filled with chunky bits of green pepper and onion, and adorned with an assortment of crunchy minced vegetables. Try serving it in shot glasses at your next tapas party.
Ingredients (14)
1 cup Cubed French Bread
1½ lb Canned Diced Tomatoes
or 1½ lb Diced Tomato
⅔ cup Diced Green Bell Pepper
⅔ cup Chopped English Cucumber
or ⅔ cup Diced Cucumber
⅓ cup Diced Red Onion
2 Garlic Cloves
1½ cup Tomato Juice
2 T Extra Virgin Olive Oil
2 T Red Wine Vinegar
½ tsp Salt
¼ tsp Freshly Ground Black Pepper
¼ cup Minced Green Bell Pepper (optional)
8 English Cucumber Slices (optional)
8 Cucumber Slices (optional)
Directions
In a small bowl cover bread with water; let stand 5 minutes or until bread is soft. Squeeze out water.
In a processor, combine bread, tomatoes, pepper, cucumber, onion and garlic; process to a coarse purée. Pour into a large bowl; stir in tomato juice, oil, vinegar, salt and pepper. Cover and chill 4 hours or until cold. Ladle into bowls and garnish with minced pepper and cucumber.