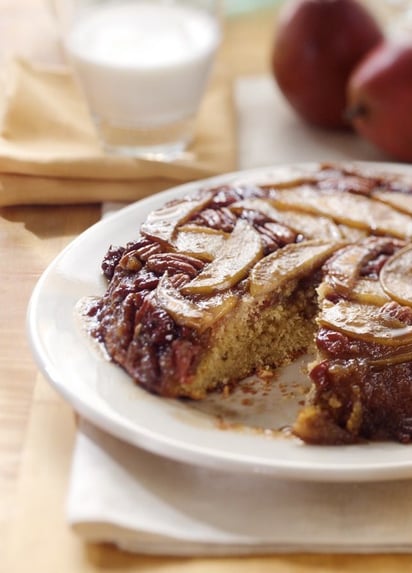 Maple Pecan Pear Upside-Down Cake
Topped with a fruity syrup, caramelized pears and nuts, this humble cake is sure to please.
Some serve this cake with ice cream or whipped cream, but this really isn't needed. A glass of cold milk, however, is a welcome accompaniment. The cake is especially delicious when still slightly warm.
Ingredients (16)
Topping
½ cup Apple Juice
or ½ cup Cherry Juice
or ½ cup Cranberry Juice
½ cup Dried Cherries
3 T Butter
⅔ cup Light Brown Sugar
¼ cup Maple Syrup
1 Red Anjou (D'Anjou) Pear
½ cup Pecan Halves
Cake
1¾ cup All Purpose Flour
1½ tsp Baking Powder
½ tsp Baking Soda
¼ tsp Salt
⅓ cup Butter
⅔ cup Sugar
1½ tsp Vanilla Extract
1 Egg
½ cup Buttermilk
Directions
Preheat oven to 350F.
To prepare topping, pour juice into a small saucepan and bring to a boil; add dried cherries. Set aside.
Place butter in a 10-inch cast-iron skillet over medium heat. Sprinkle brown sugar evenly over butter, patting it down with your fingers. Pour maple syrup over brown sugar mixture. Do not stir.
Drain cherries, reserving both juice and cherries. Arrange pear slices, cherries and pecans over sugar mixture in skillet.
To prepare cake, sift together flour, baking powder, soda and salt. In another bowl, beat butter with an electric mixer until smooth. Gradually add granulated sugar and continue beating until fluffy (about 3 minutes). Beat in vanilla and egg.
Pour reserved cherry-soaking liquid into a measuring cup, and add buttermilk to equal 2/3 cup.
Alternately add 1/3 of flour mixture and 1/3 of buttermilk mixture to butter mixture, beating gently after each addition. Repeat with remaining flour and buttermilk mixtures. Do not overbeat.
Spoon batter over fruit and topping, spreading lightly.
Bake about 45 minutes, until cake is golden brown and a toothpick inserted in the center comes out clean. Remove from oven and cool 5 minutes. Invert onto a serving plate. Serve warm or at room temperature.