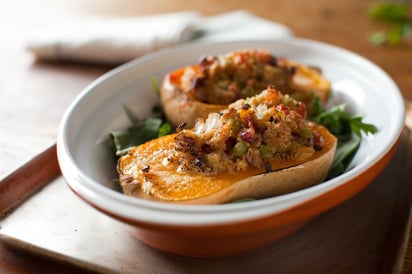 Roasted Winter Squash with Cornbread Stuffing
So many delicious things packed into a squash—nuts, fruit and traditional dressing ingredients.
Ingredients (14)
1¼ lb Acorn Squash
or 1¼ lb Butternut Squash
or 1¼ lb Pumpkin
2 T Extra Virgin Olive Oil
¼ cup Dried Cranberries
or ¼ cup Dried Cherries
¼ cup Golden Raisins
⅓ cup Chopped Onion
¼ cup Chopped Celery
1 T Chopped Sage
1 T Minced Garlic
½ cup Low Sodium Vegetable Broth
or ½ cup Low Sodium Chicken Broth
3 T Chopped Pecans
1½ cup Crumbled Cornbread
1 T Chopped Parsley
½ tsp Salt
1 tsp Freshly Ground Black Pepper
Directions
Preheat oven to 400F. Cut squash into halves lengthwise and discard seeds. Brush cut sides with 1 tablespoon olive oil and place cut sides down on a baking sheet. Roast  25 minutes or until tender.
Soak dried fruit in hot water 10 minutes. Drain and discard liquid; set aside.
Heat remaining olive oil in a medium skillet over medium-high heat. Add onion, celery, sage and garlic; saute 5 minutes. Combine drained fruit, onion mixture, broth, pecans, cornbread, parsley, salt and pepper.
Place cornbread mixture into each squash half. Return squash to the oven and bake about 20 minutes, until stuffing is thoroughly heated and golden brown on top.