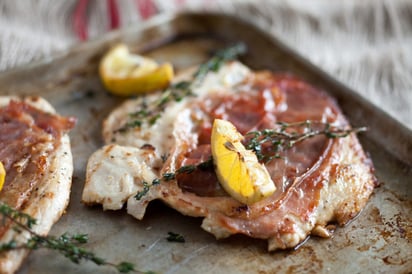 Crispy Herbed Chicken with Prosciutto
Chicken, Italian dry-cured ham and Parmigiano Reggiano cheese form a delicious trinity of flavor.
Pounding chicken breasts helps them cook evenly. A quick sauté keeps them moist. Due to the size of the pounded chicken, you'll need to use an extra-large skillet or to cook the chicken in two batches.
Ingredients (10)
4 Chicken Breasts, Boneless, Skinless, 6-8oz ea
½ tsp Salt
1 tsp Freshly Ground Black Pepper
1 Lemon
1 tsp Chopped Thyme
½ cup Grated Parmigiano Reggiano Cheese
4 Prosciutto Slices
1 T Olive Oil
1 T Butter
4 Lemon Slices
Directions
Sprinkle one side of each breast with salt, pepper, lemon rind, thyme and cheese. Top with prosciutto slices. Cover with plastic wrap and, with a meat mallet, pound each to ¼-inch thickness.
Heat oil and butter in a nonstick skillet. Add chicken, prosciutto side down; cook 4 minutes or until prosciutto is crispy. Flip chicken; cook 2 minutes. Serve with lemon wedges and Fresh Tomato Salad.