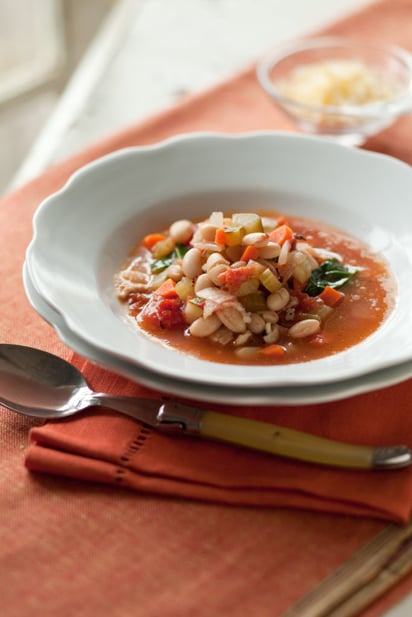 Vegetable Bean Soup
With zucchini, onion, beans and tomatoes, this soup is hearty and warming.
Ingredients (12)
3 Bacon Strips
1 Onion
2 Celery Stalks
2 Carrots
2 Whole Zucchini
14 oz Canned Diced Tomatoes
1 Garlic Clove
30 oz Canned Great Northern Beans
3 cup Low Sodium Chicken Broth
1 tsp Freshly Ground Black Pepper
6 cup Spinach
¼ cup Grated Parmigiano Reggiano Cheese
Directions
Place bacon in a large saucepan over medium heat. Cook 5 minutes or until almost crisp. Add onion, celery and carrot; cook 5 minutes.
Add zucchini and garlic; cook 3 minutes. Add tomatoes, beans, broth and pepper. Bring to a boil, reduce heat and simmer 10 minutes. Stir in spinach. Ladle into soup bowls and top with grated cheese.