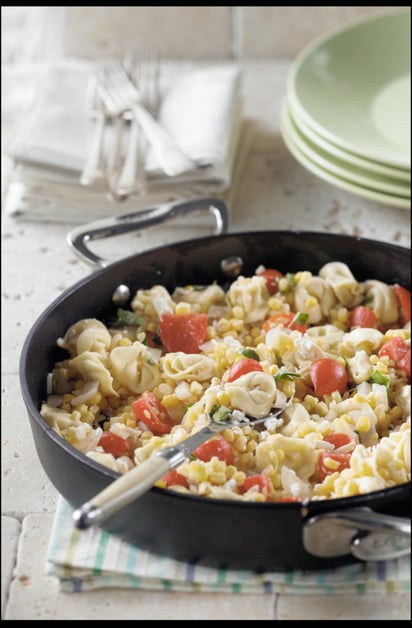 Corn and Tortellini Toss
Store-bought tortellini makes this pasta dish quick and easy.
To make variations of this easy recipe, try purchased ravioli or other filled pastas.
Ingredients (8)
8 oz Cheese and Roasted Garlic Tortellini
2 T Butter
¼ cup Chopped Red Onion
1 Garlic Clove
2 cup Fresh Corn Kernels
¼ cup Chopped Basil
12 Cherry Tomatoes
or 12 Grape Tomatoes
4 T Crumbled Ricotta Salata Cheese
or 4 T Grated Parmigiano Reggiano Cheese
Directions
Cook pasta according to package directions. Drain, reserving 1/2 cup of the pasta cooking water.
Melt butter in a large skillet. Add onion and garlic; sauté 5 minutes. Add corn; cook 5 minutes, or until tender
Add basil, cooked pasta and reserved pasta cooking water to skillet. Cook until thoroughly heated. Top with tomato halves and cheese.