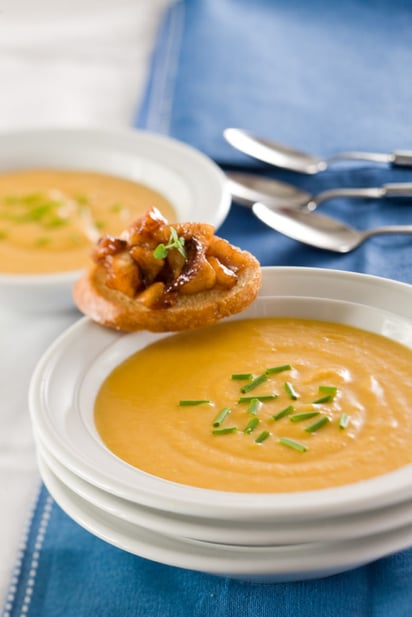 Butternut Squash Soup with Apple Bruschetta
Apple bruschetta and a creamy butternut squash soup offer up plenty of comforting autumn flavors.
Ingredients (19)
Soup
4 lb Butternut Squash
8 cup Low Sodium Chicken Broth
2 cup Light Sour Cream
2 T Butter
½ tsp Cayenne Pepper
1 tsp Kosher Salt
1 tsp Freshly Ground White Pepper
2 T Sugar (optional)
½ cup Chopped Chives (optional)
Caramelized Apple Bruschetta
4 T Extra Virgin Olive Oil
2 T Butter
3 Apples
2 T Sugar
1 tsp Ground Cinnamon
1 Baguette
1 Garlic Clove
¼ tsp Sea Salt
1 tsp Freshly Ground Black Pepper
1 T Honey
Directions
Soup
Combine squash and broth in a large saucepan; bring to boil over high heat. Reduce heat to medium, cover and simmer until squash is tender, about 20 minutes. Uncover and cool.
Puree squash in blender or food processor.
Return puree to saucepan and place over medium-low heat.  Stir in sour cream, butter and cayenne. Add salt and white pepper. If squash lacks sweetness, add sugar.
Cook soup just until thoroughly heated but not boiling. Ladle into bowls and garnish with chives and Caramelized Apple Bruschetta, if desired.
Caramelized Apple Bruschetta
Warm a large saute pan over low heat. Add butter and olive oil. Add apples; cook until tender, about 6 minutes.
Add sugar and cinnamon; cook, stirring frequently, for 8 minutes.
Preheat broiler.
Place bread on a baking sheet and broil until golden brown, about 2 minutes per side. Rub each slice of toasted bread with cut-side of garlic and brush with a little olive oil. Sprinkle with salt and pepper.
Carefully drizzle a small amount of honey over the bread.
Place a spoonful of apple mixture on top of each slice.