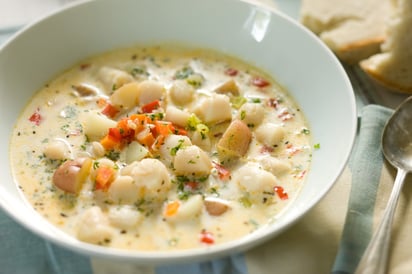 Bay Scallop Chowder
A creamy chowder that showcases the mild flavor of scallops.
Ingredients (13)
2 T Butter
1 Onion
½ cup Chopped Carrot
½ cup Chopped Celery
1 Red Bell Pepper
1 cup Diced Red Potato
¼ tsp Dried Oregano
16 oz Clam Juice
1 lb Bay Scallop
2 cup Half and Half
¼ tsp Salt
¼ tsp Freshly Ground Black Pepper
½ cup Chopped Parsley
Directions
Melt butter in a large heavy saucepan.
Add onion and next 5 ingredients (onion through oregano). Saute 10 minutes. Add clam juice and scallops. Cook 5 minutes.
Add half-and-half, salt and pepper; cook until thoroughly heated. Stir in parsley.