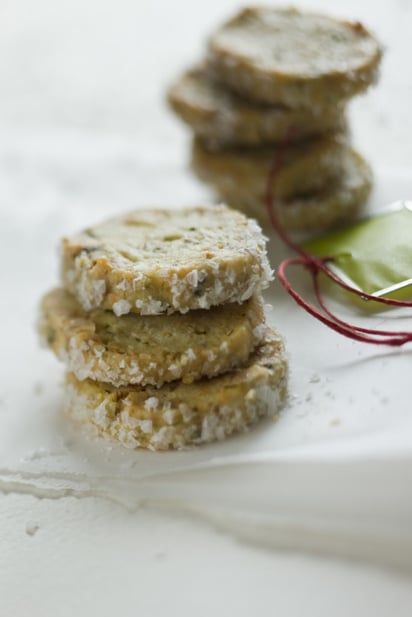 Savory Basil Slice-and-Bakes
Party bites that are ready to bake when you're ready to entertain.
If you like pesto, you'll love these savory wafers that contain the same ingredients. Perfect for parties.
Ingredients (11)
2 cup All Purpose Flour
½ tsp Freshly Ground Black Pepper
½ tsp Cayenne Pepper
½ tsp Salt
½ cup Grated Parmigiano Reggiano Cheese
1 cup Butter
8 oz Cream Cheese
¼ cup Pesto
¼ cup Chopped Basil
1 cup Chopped Walnuts
or 1 cup Chopped Almonds
or 1 cup Pine Nuts
1 tsp Kosher Salt (optional)
Directions
Sift together flour, peppers and salt. Stir in cheese.
Combine butter and cream cheese; using a mixer, beat until well combined. Add pesto and mix well.
Add flour mixture, basil leaves and nuts. Mix well.
Divide dough in half and roll into logs 1 1/2 inches in diameter. Roll each log in kosher salt, if using. Wrap in waxed paper and chill until firm. If baking later, freeze shaped dough and defrost slightly before baking.
Preheat oven to 350F.
Slice dough 1/4-inch thick. Place on ungreased cookie sheets. Bake 18 to 20 minutes, until edges are golden. Transfer to a wire rack to cool. Store in an airtight container in the refrigerator up to a week, or freeze up to a month.