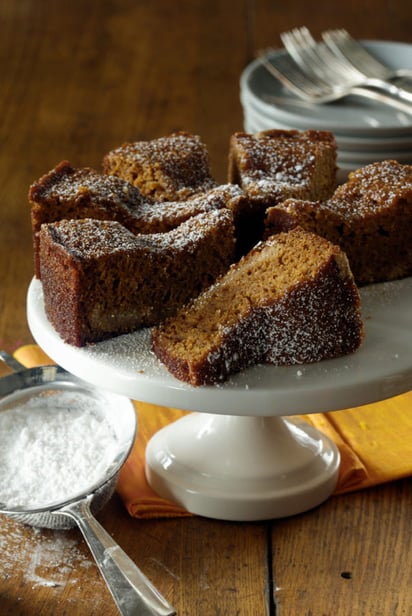 Elsie's Gingerbread
This streusel-topped version, light on molasses and heavy on spice, has a moist, almost coffeecake-like texture and a delicate crumb.
The streusel melts into the cake and provides a yummy appearance. Be sure to coat only the bottom of your pan with cooking spray.
Ingredients (13)
¼ oz Cooking Spray
1½ cup All Purpose Flour
1 cup Sugar
2 tsp Ground Ginger
1 tsp Ground Cinnamon
¼ tsp Ground Nutmeg
¼ cup Butter
¼ cup Vegetable Shortening
1 Egg
3 T Molasses
1 cup Buttermilk
2 tsp Baking Soda
¾ tsp Salt
Directions
Preheat oven to 300F. Coat bottom only of a 9-inch square pan or 9-inch tube pan with cooking spray. If using a tube pan with a removable bottom, wrap outside of pan with foil to prevent leaks.
Combine flour, sugar, ginger, cinnamon and nutmeg in a large mixing bowl. Using a pastry blender, cut in butter and shortening to make a crumbly mixture. Scoop out ¼ cup and set aside.
Add egg and molasses to flour mixture and stir. Combine buttermilk, baking soda and salt. Add buttermilk mixture to flour mixture; stir well (there will still be a few lumps). Pour into prepared pan; sprinkle reserved flour mixture evenly over top.
Bake 30 minutes. Increase temperature to 350F and continue baking 18 to 20 minutes, until toothpick inserted in center comes out clean.