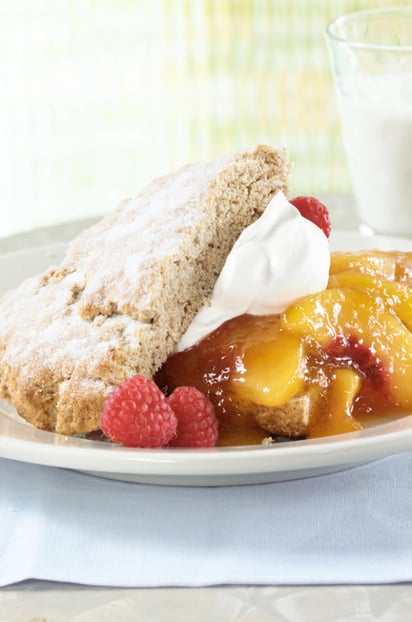 Peach Shortcake
One of summer's delights, peach shortcake is everyone's favorite.
Whole-wheat flour gives the shortcake a nutty taste.
Ingredients (19)
Filling
3 lb Peaches
½ cup Peach Preserves
1½ T Sugar (optional)
1 T Peach Liqueur (optional)
or 1 T Peach Schnapps
or 1 T Peach Brandy
¼ tsp Almond Extract
Shortcake
¼ oz Cooking Spray
2 cup All Purpose Flour
2 cup Whole Wheat Flour
11 T Sugar
3¼ tsp Baking Powder
¾ tsp Baking Soda
¼ tsp Salt
⅓ cup Butter
4½ T Vegetable Shortening
1 cup Buttermilk
2 Eggs
1½ tsp Vanilla Extract
1½ cup Whipped Cream
1 cup Fresh Raspberries (optional)
Directions
To prepare filling, combine all ingredients in a large bowl, tossing well. Using your fingers, coarsely mash 1 or 2 handfuls of peaches. This releases their juice but still leaves plenty of texture.
Preheat oven to 425F. Lightly coat a baking sheet with cooking spray.
To prepare shortcake, combine flours, 1/2 cup sugar, baking powder, soda and salt in a food processor. Add butter and shortening and pulse to make a crumbly mixture (alternatively, add sifted ingredients to a bowl and cut shortening and butter in by hand).
Combine buttermilk, eggs and vanilla in a small bowl, beating well with a fork. With the processor running, pour in buttermilk mixture. Pulse until dough holds together.
Place dough on prepared baking sheet; gently pat into a 12-inch round. Sprinkle with 3 tablespoons sugar. Bake 15 minutes or until golden brown. Remove from the oven and let cool on a rack until only slightly warm.
Slice cake into 8 wedges. Cut each wedge open and spoon peach filling over bottom. Top with whipped cream and top of wedge. Garnish with fresh raspberries, if using.