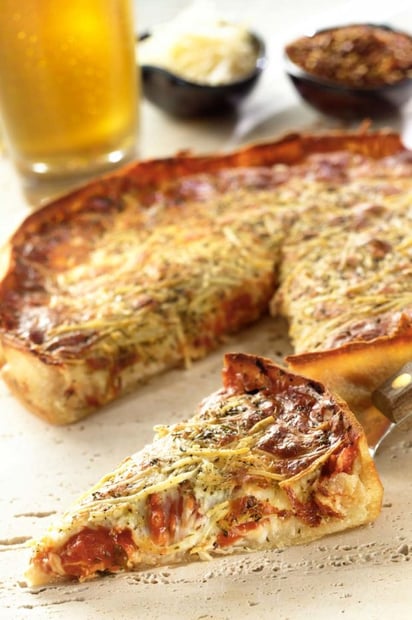 Uno's Cheese and Tomato Deep Dish Pizza
Pizza dough, tomato sauce and mozzarella are layered in a springform pan for deep-dish dinner.
Although traditional Chicago pizza has all the cheese on the bottom, we divided it between the top and the bottom. Use your favorite pizza crust recipe or purchase dough from a local pizzeria. You'll have some sauce left over.
Ingredients (13)
Chunky Tomato Sauce
28 oz Canned Crushed Tomatoes
or 28 oz Canned Diced Tomatoes
2 T Tomato Paste
2 T Red Wine
2 tsp Italian Seasoning
or 2 T Italian Herb Blend
1½ tsp Dried Onion Flakes
or 1½ tsp Onion Powder
3 Garlic Cloves
½ tsp Salt
¼ tsp Freshly Ground Black Pepper
Pizza
3 T Vegetable Oil
16 oz Pizza Dough
4 cup Shredded Part Skim Mozzarella
2 T Grated Romano Cheese
1 T Dried Oregano
Directions
To prepare sauce, combine all ingredients in a saucepan, bring to a boil, reduce heat and simmer about 10 minutes. Let cool. For the deep-dish recipe, you will have sauce left over.
To prepare pizza, preheat oven to 400F.
Pour oil into a 10-inch round, deep-dish pan or springform pan. Place dough in the center of pan and work dough from the center outward, pressing to cover bottom of pan and halfway up sides. Prick with a fork. Bake crust in oven about 10 minutes. Remove from oven and let to cool 10 minutes.
Spread 2 cups mozzarella cheese on crust, top with 3/4 cup tomato sauce. Sprinkle remaining 2 cups mozzarella cheese, Romano cheese and oregano on top. Bake 35 to 40 minutes, rotating pizza every 15 minutes. The crust should be golden brown, and the cheese should be bubbling. Remove from oven and let cool 3 minutes. Remove pizza from pan using a spatula, cut and serve.