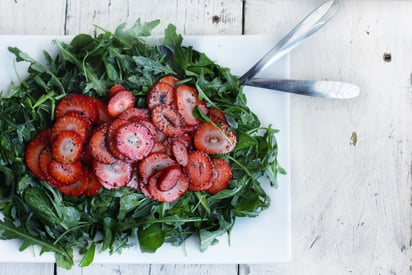 Strawberry Herb Salad with Poppy Seed Vinaigrette
A beautiful warm weather salad that's light, clean, and refreshing.
Add a bit of soft goat cheese, if you like, to bulk it up. Poppy seeds—a classic strawberry partner—add extra spark and textural interest.
Ingredients (13)
1 pnt Fresh Strawberries
2 cup Baby Arugula
1 cup Watercress
1 cup Chopped Flat Leaf Parsley
¼ cup Tarragon Leaves
¼ cup Fresh Mint
3 T Extra Virgin Olive Oil
2 T White Wine Vinegar
2 tsp Poppy Seeds
½ tsp Honey
¼ tsp Salt
1 tsp Freshly Ground Black Pepper
6 T Goat Cheese (optional)
Directions
Place the sliced strawberries in a medium bowl.
Fill a deep bowl with cool water. Add arugula, cress, parsley, tarragon and mint, swish around to clean, and lift into the basket of a salad spinner. Spin dry and transfer to a large salad bowl.
Whisk oil, vinegar, poppy seeds, honey, salt and pepper until emulsified. (Or shake vigorously in a lidded jar.) Spoon 1 tablespoon vinaigrette over strawberries; toss gently to coat. Spoon 2 tablespoons vinaigrette over herbs; toss gently. Scrape berries over herbs. Taste, adding more vinaigrette if desired.  Serve immediately.