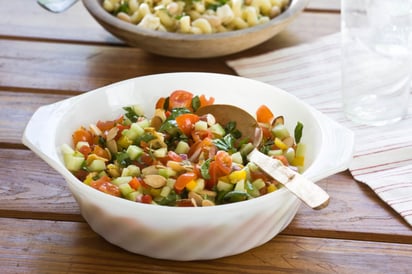 Gazpacho Salad
This chopped salad featured all the ingredients of the classic soup, gazpacho.
Ingredients
(11)
2 cup diced, peeled cucumber (if the seeds are large, remove)

1/2 cup diced red bell pepper

1/2 cup diced yellow bell pepper

2 cup diced ripe tomatoes

1/4 cup minced red onion

1/2 cup minced basil

1/4 cup extra-virgin olive oil

1/4 cup red wine vinegar

1 garlic clove, minced

1/2 teaspoon coarse salt

1/4 cup sliced almonds, toasted
Directions
Combine all ingredients and mix well. Let marinate 20 minutes before serving.