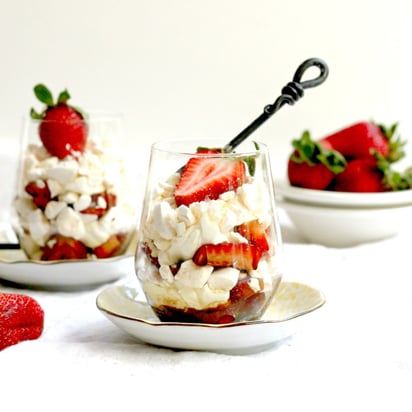 Strawberry Meringue Parfaits with Balsamic Syrup
Perfection in a parfait glass: strawberries, balsamic, meringues, and mascarpone cheese.
Ingredients
(7)
1/2 cup balsamic vinegar

4 tablespoon sugar, divided

24 ounce strawberries, hulled and sliced 1/4 inches thick

1 cup heavy cream

8 ounce mascarpone cheese

1 teaspoon vanilla extract

4 ounce meringue cookies, crumbled (about 12)
Directions
Combine vinegar and 2 tablespoons sugar in a small saucepan. Bring to a boil over medium-high heat, stirring to dissolve sugar. Boil about 8 minutes, or until thick. Let cool. Combine balsamic syrup with berries.
Beat heavy cream, mascarpone, remaining 2 tablespoons sugar and vanilla in the bowl of an electric mixer until soft peaks form.
Layer strawberries, cream mixture and crumbled meringues in glasses. Serve immediately. Serves 6.