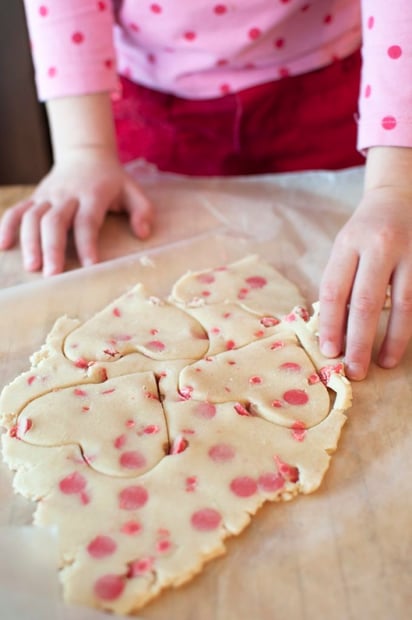 Chocolate Chip Cookie Hearts
These sweet, heart shaped cookies are the perfect Valentine's Day treat.
If you like, separate red chips from dark chocolate chips. Divide dough in half. Stir red chips into one half. Stir two drops red food coloring and dark chips into other half. Chilled dough makes better cookies, but it's not necessary.
Ingredients
(8)
1 cup (2sticks) butter, softened

1/2 cup packed light brown sugar

1/3 cup granulated sugar

2 teaspoon vanilla extract

1/2 teaspoon salt

1 large egg yolk

2 1/2 cup all-purpose flour

1 (10-ounce) package Valentine chips (such as Nestlé Toll House)
Ingredient Facts and Health Benefits
Discover fascinating facts and health benefits about some of the ingredients in the recipe, including other delicious recipes!
Directions
Combine butter, sugars, vanilla and salt in large bowl. Using an electric mixer on medium-high speed, beat until creamy. Beat in egg yolk. Gradually beat in flour until just blended. Stir in chips.
Roll half the dough between two sheets of wax paper until 1/4-inch thick. Repeat with remaining half. Chill 30 minutes on sheet trays in the refrigerator or proceed with recipe.
Preheat oven to 350F. Line two baking sheets with parchment paper.
Place dough on a flat surface. Remove top layer of wax paper. Using a heart-shaped cookie cutter, cut dough, then transfer to baking sheets, about 2 inches apart.
Bake 9 to 11 minutes, until golden brown.
Let cool on baking sheets 2 minutes; remove to wire racks and let cool completely.