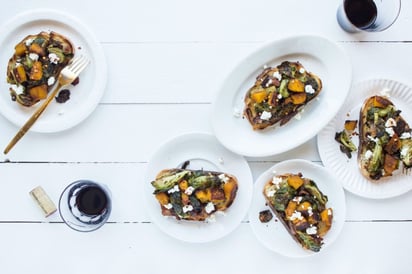 Pumpkin, Bacon and Brussels Sprout Crostini
Three fall favorites converge atop a creative crostini appetizer.
Ingredients
(12)
2 pound pumpkin, in chunks

4 tablespoon olive oil

1/4 cup maple syrup

1/4 cup light brown sugar

Salt and pepper

1 pound Brussels sprouts, halved

1/2 pound thick cut bacon, cut into 1/2-inch pieces

1/2 cup goat or Cambozola cheese, crumbled

Red pepper flakes

6-8 thick slices rustic bread

2 tablespoon butter, softened

1 clove garlic, peeled and smashed
Ingredient Facts and Health Benefits
Discover fascinating facts and health benefits about some of the ingredients in the recipe, including other delicious recipes!
Directions
Preheat oven to 400F.
Place pumpkin chunks on a rimmed baking sheet. Drizzle 3 tablespoons of the olive oil and maple sugar over top. Toss to coat. Sprinkle on the brown sugar and toss again. Finish with a sprinkle of kosher salt and pepper. Roast for 20-25 minutes, tossing halfway through, or until pumpkin is soft and caramelized. Remove from the oven and set aside.
On another lined baking sheet combine the Brussels sprouts and the bacon. Drizzle remaining olive oil over the top and add a small amount of salt and pepper. Bake at 400F for 20 minutes, tossing halfway through, until golden brown and the bacon is cooked. Remove from the oven and set aside.
Butter each piece of bread on both sides and toast in a saute pan until golden brown on each side. Remove from the pan and immediately rub each side of the bread with a clove of garlic.
Combine the pumpkin with the Brussels sprouts and bacon mixture and pile it onto each of the toasts. Sprinkle the cheese over the top, along with some red pepper flakes and additional salt and pepper if desired.