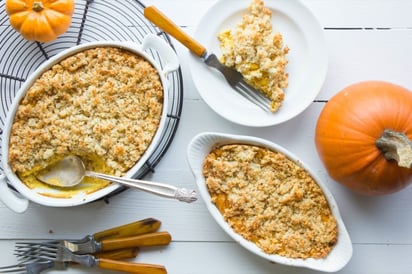 Pumpkin and Sage Gratin
In need of a savory side for fall? Look no further than this picture-perfect pumpkin gratin.
Ingredients
(12)
1 pound (16 oz) pumpkin puree

3 eggs

1 cup heavy whipping cream

1 cup grated Gouda or Gruyere cheese

1/4 teaspoon ground cinnamon

1/4 teaspoon ground nutmeg

1 teaspoon salt

1/2 teaspoon pepper

4 slices rustic white bread with the crusts removed

1 cup grated Parmesan cheese

1 teaspoon dried sage

3 tablespoon melted butter
Ingredient Facts and Health Benefits
Discover fascinating facts and health benefits about some of the ingredients in the recipe, including other delicious recipes!
Directions
Preheat oven to 350 F.
In a large mixing bowl, combine the pumpkin puree with the eggs, whipping cream, cheese, spices, salt and pepper. Pour into a medium buttered baking dish. Place dish on a rimmed baking sheet and bake for 30-40 minutes until the edges are set and the inside of the gratin is still a bit wobbly.
While the gratin bakes, add the bread, cheese and sage to the bowl of a food processor. Pulse for 15 seconds until crumbly. Pour the melted butter over the top and pulse briefly to combine. Remove the gratin from the oven, sprinkle the breadcrumb mixture over the top and return to the oven for 5 minutes or until the topping is browned and crisp, and the filling is completely set.