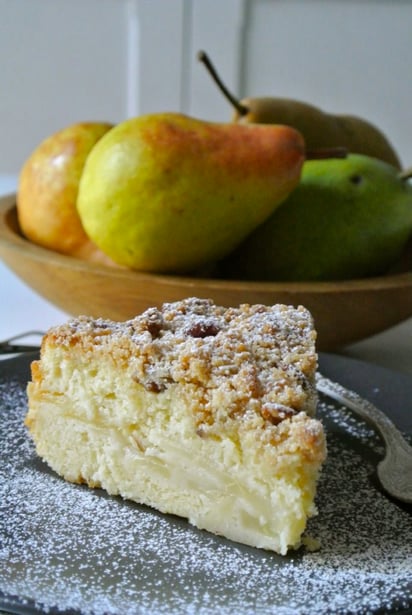 Pear Streusel Cake
This Pear Streusel Cake is topped with buttered brown sugar and pecans.
Bartlett or Anjou pears or a combination of both are good choices for this cake. Make sure they're ripe and soft.
Ingredients (18)
Streusel
⅓ cup All Purpose Flour
¼ cup Brown Sugar
2 T Butter
⅓ cup Chopped Pecans
Cake
1¼ lb Pear
14 T Sugar
2 T Fresh Lemon Juice
or 2 T Bottled Lemon Juice
½ tsp Ground Ginger
¼ tsp Ground Nutmeg
2 tsp Baking Powder
1½ cup All Purpose Flour
½ tsp Salt
1 Butter Stick
2 Eggs
1 tsp Vanilla Extract
¾ cup Milk
¼ oz Nonstick Baking Spray
2 tsp Powdered Sugar
Directions
Preheat oven to 350F.
To prepare streusel, combine flour and brown sugar in a medium bowl. Cut in butter with two knives or your fingers until crumbly. Mix in pecans.
To prepare cake, combine pears, 2 tablespoons sugar, lemon juice, ginger and nutmeg in a large bowl.
Combine flour, baking powder and salt in a bowl. Combine butter and remaining 3/4 cup sugar; beat with an electric mixer until well blended. Add eggs, one at a time, beating well after each addition. Beat in vanilla. Add flour mixture and milk alternately, beginning and ending with flour mixture and mixing until just combined. Spread about two-thirds of the batter in a 9-inch springform pan that's been sprayed with cooking spray. Arrange pear mixture on top. Pour remaining batter over top; spread with a spatula. Some fruit will not be covered. Sprinkle with streusel.
Bake 55 minutes or until a tester inserted in middle comes out clean. Let cool in pan on wire rack. Sift powdered sugar over top before serving.