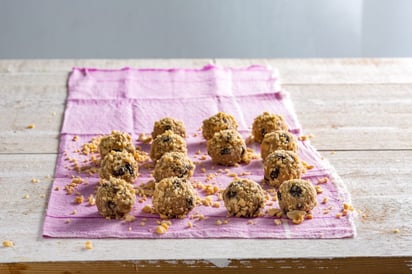 Oatmeal Coconut Bites
Fuel your day with protein (from the peanut butter) and fiber (from the oatmeal and raisins).
Ingredients
(7)
1 cup quick-cooking oats

1/2 cup creamy peanut butter

1/3 cup honey

1/2 cup shredded sweet coconut

1/2 cup raisins

1 teaspoon vanilla extract

1 cup chopped peanuts
Directions
In a large bowl, stir oats, peanut butter, honey, coconut, raisins and vanilla extract.
Roll mixture into 14 balls. Roll in chopped peanuts.
Refrigerate on a plate lined with waxed paper about 1 hour. Store in the refrigerator.