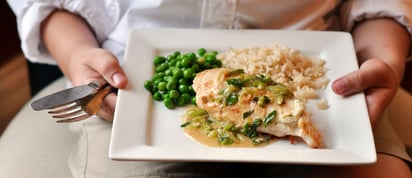 Boursin-Stuffed Chicken
Herby Boursin cheese makes this chicken dish indescribably delicious—perfect for a special occasion dinner.
Creamy herbed Boursin and a white wine pan sauce elevate ho-hum chicken breasts, and in less than half an hour on a school night.
Ingredients (14)
5 tsp Vegetable Oil
1 Green Onion Bunch
¾ tsp Salt
1 tsp Freshly Ground Black Pepper
4 Chicken Breasts, Boneless, Skinless, 6-8oz ea
3 oz Boursin Garlic and Herb Cheese
4 tsp Unsalted Butter
1 tsp All Purpose Flour
½ cup Dry White Wine
¼ cup Low Sodium Chicken Broth
2 tsp Tarragon Vinegar
2 T Minced Chives (optional)
2 T Minced Parsley (optional)
2 T Minced Scallion (optional)
Directions
Preheat oven to 400F.
Heat a large ovenproof skillet over medium heat. Add 1 tablespoon oil and green onions; saute until just softened, about 2 minutes. Transfer to a small bowl, stir in 1/4 teaspoon salt and pepper, and let cool.
Cut a deep pocket through thick side of each chicken breast, slicing to within about 1/4 inch of the other side. Spread one quarter of the Boursin inside each pocket, distributing well. Top with one quarter of the green onions. Tie each breast with two pieces of kitchen twine to help hold filling in. Sprinkle chicken with 1/4 teaspoon salt and pepper.
Heat skillet over medium-high heat. Add remaining 2 teaspoons oil to pan, and sear chicken until golden, 2 to 3 minutes. Turn, cook 1 minute more, and transfer skillet to oven. Bake 10 to 12 minutes, or until chicken is just thoroughly cooked. Transfer chicken to a platter, tent with foil, and let rest.
Add 1 teaspoon butter to pan. When melted add flour and cook, stirring, over medium heat 1 minute. Add wine, broth and vinegar. Increase heat to medium-high and bring to a boil. Simmer until slightly reduced, about 5 minutes. Add remaining 1/4 teaspoon salt and pepper. Remove from heat, swirl remaining tablespoon butter into sauce, and stir in herbs. Spoon sauce over chicken.