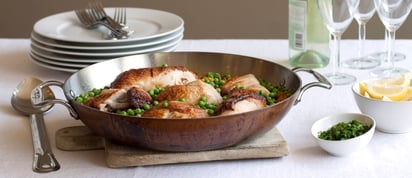 Quick Chicken and Rice
Quick-and-easy chicken and rice? Really, truly—deli chicken cuts cooking time in half.
Carve your purchased bird into 8 or so whole pieces, as you would a basic roast chicken, to best approximate a paella "from scratch."
Ingredients (16)
2 cup Low Sodium Chicken Broth
¼ tsp Saffron Threads
1 T Olive Oil
3 oz Spanish Chorizo
¾ cup Chopped Onion
2 tsp Minced Garlic
¾ tsp Smoked Paprika
½ tsp Kosher Salt
1 tsp Freshly Ground Black Pepper
1¼ cup Arborio Rice
⅓ cup Dry White Wine
13½ oz Canned Diced Tomatoes
1 Rotisserie Chicken, 2lb
⅔ cup Frozen Peas
2 T Minced Flat Leaf Parsley
1 Lemon (optional)
Directions
Preheat oven to 450F.
Combine broth and saffron in a medium saucepan. Bring to a simmer.
Heat oil in a 12-inch ovenproof skillet over medium heat. Add chorizo and saute until just brown and crispy, 3 to 4 minutes. Add onion and saute 2 minutes. Add garlic and saute 1 minute more. Stir in paprika, salt and black pepper. Add rice; toss until well coated. Stir in wine, then drained tomatoes and broth. Cover skillet and transfer to oven; bake 15 minutes.
Arrange chicken pieces over rice, and scatter peas over the top (do not stir rice). Continue baking, uncovered, 5 minutes. Remove from oven, and let rest 5 minutes.
Sprinkle with parsley and serve straight from the pan with lemon wedges for squeezing over the top.